Clothing Optional
Swingers Parties Las Vegas only clothing optional pools and Gardens with day beds and cabanas and 24 hour swingers dance club
Swingers Parties Las Vegas – 4 naked pools for four unique lifestyles party experiences – Live and Love without the burden of clothing the best topless pool in Las Vegas.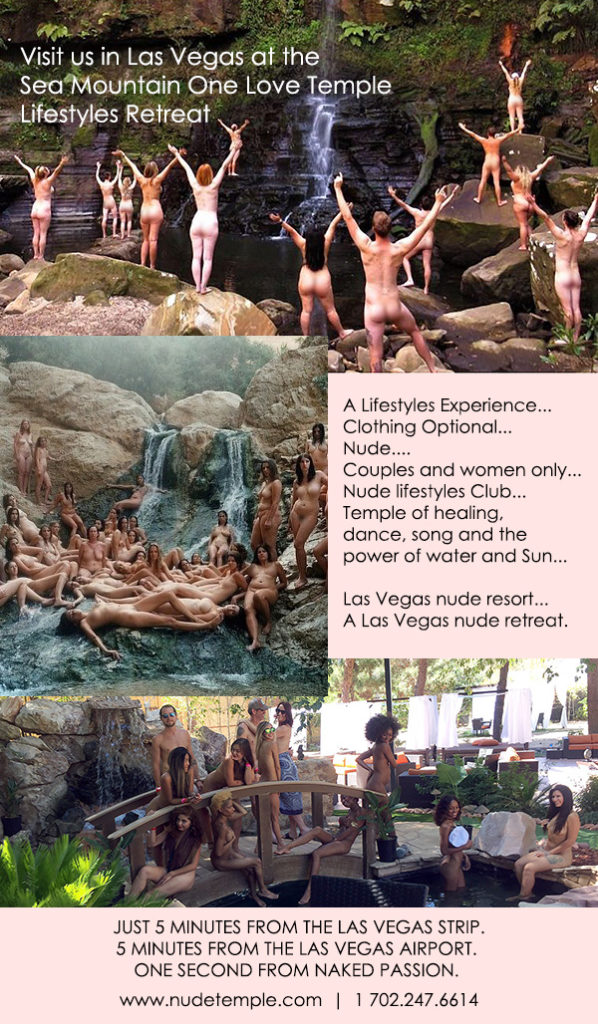 Dissolve in warm 24 hour lifestyles dance club and couples only lifestyles experiences each day of the year.
No Matter the weather the Swingers Parties Las Vegas provides hot pools warm robes an towels and indoor areas for the most romantic and upscale and non-body shaming day in Las Vegas and the World.
Now enjoy the romantic Zen warm curative Temple water nude pools and top free  Las Vegas pool and nude  tanning for the most awarded VIP day in Las Vegas – Swingers Parties Las Vegas  feels there is no better way to rejoice in spirit and to share your love than in a natural state.
Las Vegas clothing optional pools. Las Vegas topless and nude pools.   Swingers Parties Las Vegas the best swingers club in Las Vegas.

See why the New York Times and LA weekly Best of and the Weekly and Playboy Sea Mountain the most upscale and cutting edge adults only resort in the USA.
Remember, at the TEMPLE:
You can always wear a towel a sarong a wrap or a robe so your comfort is the One Love concern
Every night of the year in our Dharma club and night events you can wear the sexiest most provocative lingerie. Wear something in the eves that would not get you admitted to any club in Las Vegas.  Rejoice naked or indulge in extreme lingerie in our Dharma club Zone. The Las Vegas nude resort has been hailed as the most upscale swingers center in the world. Each packages includes food and beverages.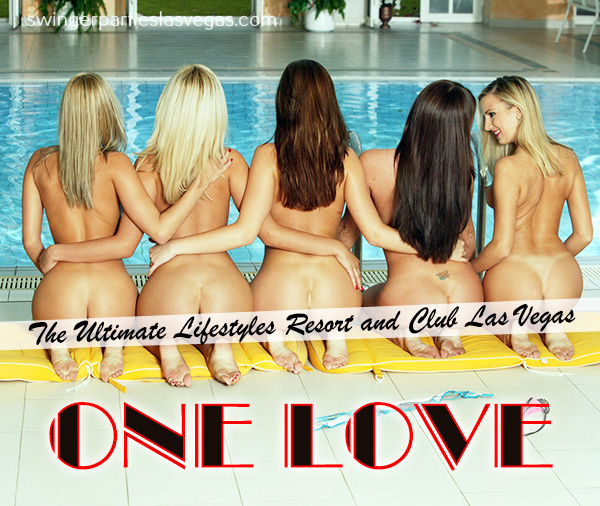 Sea Mountain Las Vegas is for couples and women only. There are never single men on the property at any time.
A very up scale, safe, clean, no pressure experience
Sip your drinks by the pool clothes free as the sun heats your body.
Watch the Las Vegas stars in nude bliss or party hearty rejoice  at the only resort that allows  you to be  yourself.
One Love Sea Mountain Lifestyles  VIP Garden and Temple caters specifically to females and couples only from all over the world. The only lifestyles luxury adults only experience in Las Vegas or the USA of its kind. It's a safe and fun purifying, loving and meditative experience. Rejoice in song and dance.
Your Lifestyles Nude Temple of the One Love has the ultimate water, curative and nude, with the incredible heated whirlpool and pools for nude tanning and swimming every day and night  of the year.  We have the wondrous naked pool Zen garden for luxuriating in the sun. You can use all our facilities indoors and out clothes-free 24 hours per day. Sip drinks all evening for romance or socializing.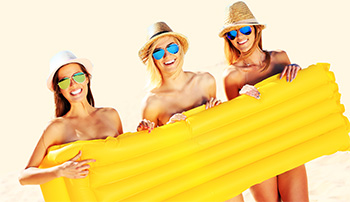 All other pools in Las Vegas  close by 5:00 in the evening. The Sea Mountain One Love Temple is open every day and night  of the year for your ultimate pampering experience. Many other hotel pools close from October to April – Imagine you are at the best nude couple's lifestyles pool and whirlpool open every day of the year. A truly SAFE, UP SCALE experience for those contemplating their first encounter with clothing optional recreation and retreat or those world travelers seeking a Lifestyle club and upscale nude day or night.
Feel the vibe of Jamaica, Hedonism or Desire, all day and night. It's a lifestyle friendly, no pressure, no stress experience with foods and beverages 24 hours.

The most SAFE environment, free of lurkers. The Las Vegas clothing optional gardens, pool and whirlpool are for clothes-free for recreation, meditation and rejoicing. Other Swingers Temple and dance areas are of course clothing optional, meaning you may wear a towel, wrap or sarong. In the evenings it's Lingerie and Less. Dare to dance on the pole in the Dharma club and Swingers Club. Your comfort is our gift. This is the ultimate VIP experience, no pressure Temple of the swingers. One of the most unique experiences in the world. Our upscale guests are of all ages over 21, from all over the world. Please be aware our pools and whirlpool areas are clothes free areas however you can wear a towel or sarong or robe as you get ready to submerge in the warm Las Vegas Topless pools and coed nude!  Enjoy a clothes-free day or night. If you have never been to a facility with clothing optional areas we promise you will feel comfortable in this very special Lifestyles Temple – While the Temple has limited  amazing suites we do have up to 150 other couples who come for the day or night retreats. While other nudist resorts or nude resorts ask that you be quiet and still, we think that you deserve to chill or get up and dance, meet new friends or retreat or be Las Vegas romance  in quiet bliss or sensual recapture and upscale Temple membership lifestyle fantasy unfolds.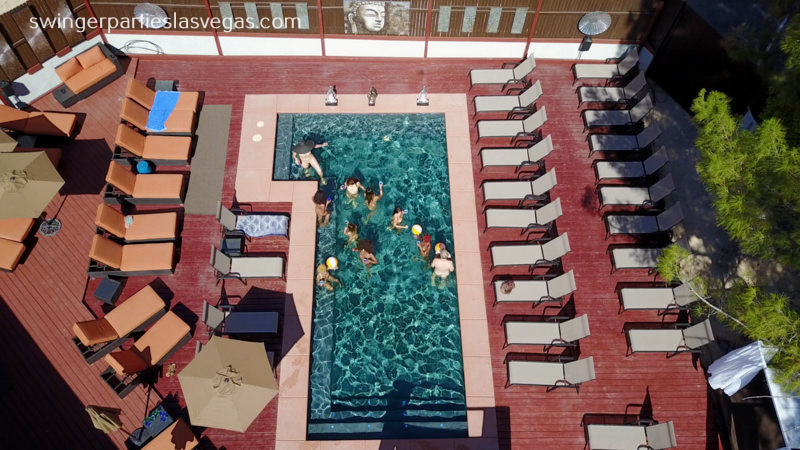 Many celebrities come to Las Vegas and  do enjoy this special opportunity for nude pool and coed tanning in this world class Las Vegas setting. They too find it hard to find such a safe secure environment to retreat and enjoy the bliss of nudity. Whether you come alone as a female empowered, with friends, or with a lover, our passion is to please you in one of the most refreshing days or nights in Las Vegas. Meet new friends and rekindle the old. Or retreat in tranquil privacy. We never sell, rent or release any information on any of our guests at the ultimate sex club .
The Sea Mountain One Love Retreat is a wonderful palace of Zen for those who love an exotic club areas with nude retreats, Las Vegas  24-hour dancing and indoor area for whatever weather.  From the sensual suns of desert heat to the magical nights by the sea mountain fire pits it's The perfect nudist or upscale couples and women only Lifestyles clothing optional experience indoors and out. Whatever the climate, whatever your attitude you are certain to find whatever desire for your day or night at the Sea Mountain.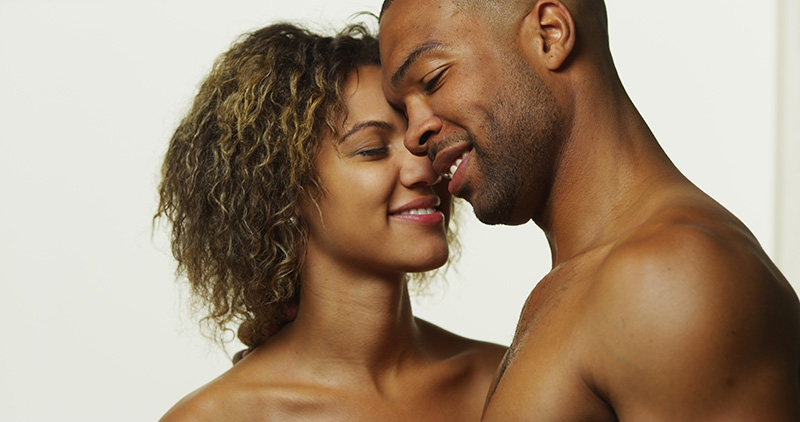 The Temple of One Love always have special adults only theme lifestyles  club events and rejoicing on weekend nights! The nights heat up with fantasy evening and sensual private Dharma club! Reserve our weekend parties as they sell out most weekends. Dress to undress Lingerie and less every night of the year at the Dewey Dharma club. For those who rent the entire Sex Temple estate for private functions such as VIP events or weddings you may use the facilities in any manner of your comfort. We welcome groups of women Only also  for un-harassed Lifestyles Temple retreat days.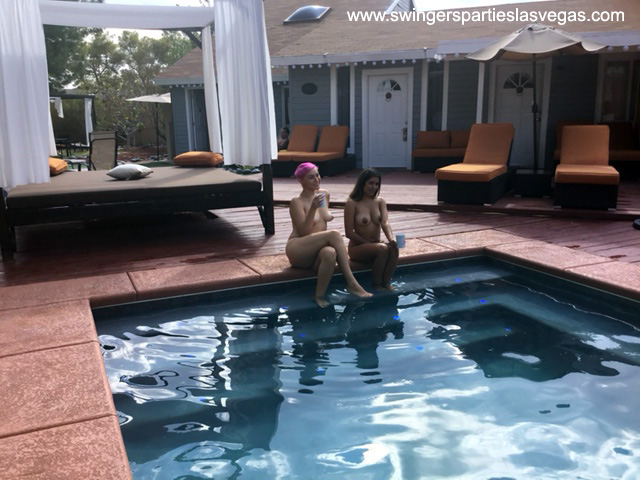 See why this is the most upscale Las Vegas clothing optional experience and see why MTV and TMZ calls this the sex secret celebrity resort.
Share This